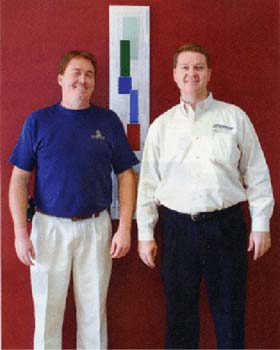 Impressions Printing (Oklahoma City) is a small commercial printer specializing in everything from monochrome and digital color to full-color offset printing. In October 2006, company president John Braaten and vice president Jason McWilliams spent three days at Graph Expo.
For McWilliams, a 20-year veteran of the graphic arts industry, it had been far too long between trade shows. While working for a different company in the early 1990s, he had attended a regional show in Califomia. Since joining Impressions Printing seven years ago, he had lobbied his good friend Braaten to attend Graph Expo.
"I'd been trying so hard to get him to go, because I knew what you could learn and see and dream about there," says McWilliams.
The campaign finally succeeded last fall. But the trip to Chicago was no boondoggle-each day was carefully mapped out. "It was a shopping trip with a definite purpose," says McWilliams. "We knew before we got there what we had to get. We were researching digital color presses, looking to upgrade our current equipment as well as jump off the deep end of wide-format printing."
Braaten and McWilliams also scheduled a follow up visit with Spiel Associates (Long Island City, NY). Having just ordered and installed a Sterling Punchmaster 20 a few weeks prior to the show, they wanted to get some additional training on the machine. "It's pretty straight forward , but it always helps to talk to a technician who can show you tips and tricks," says McWilliams.
The Impressions Printing team wasn't planning on investigating additional post press equipment, but, as often happens at a trade show, they found two more "must have" machines.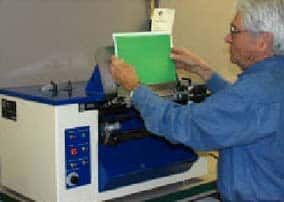 Impressions Printing learned of Spiel's Punchmaster via an Internet search. "They called us in May," recalls co-owner David Spiel. "A few months later, toward the end of September, they called back. One week later, they had the machine." "We were looking for a faster punch," recalls McWilliams. After the initial conversation in May, the Impressions Printing team downloaded some videos of the 125,000-sph Punchmaster from www.spielassociates.com. In September, the printer had a big project that exceeded the old punch's capabilities.
"They needed to get a big job out lickety-split, and with the old machine, which was prone to jamming, that would have been impossible," says Spiel. "They had their Punchmaster for about a week when we saw them at Graph Expo."
A visitor is sure to see brothers Michael, Saul or David Spiel at the Spiel Associates' booth. Their father, Norton, is semi-retired but still keen to solve bindery challenges, even if the solution isn't particularly lucrative for the company. "It's good for the customers, but not so good for us," says David Spiel. "He'll want to solve a problem like perforating cards, folding them and trimming them on four sides."
Spiel Associates has been a fixture at the Graph Expo and Print shows for the past 39 years. The company also exhibits at Graphics of the Americas, On Demand, Ipex and Drupa.
According to David Spiel, the longer European shows have a more leisurely pace than Graph Expo or Print. "In the United States, a guy might spend one day at the show, so he's running around like a Tasmanian devil trying to see everything. He gets to the airport and says, 'Darn! I forgot to see so-and so.'"
In contrast, Spiel says Ipex or Drupa attendees tend to stroll rather than dash: "At those shows, a man might stroll by and say, 'Hello, I have come by to see your machinery,' and you'll respond, 'Yes, sir. How are you?' and spend 15 minutes with him."
In the United States, visitors don't stand on ceremony. Says Spiel: "It's like: 'Hello, hello, hello, whaddya got?'"
The Sterling Punchmaster 20 can punch sheets ranging from a minimum 4 x 5 inches to a maximum of 20 x 20 inches. The punch is suitable for comb, spiral and double-loop wire, as well as tabs, door hangers and windows. An optional air feeder lets users punch signatures and heavy board.
"We had spoken to David and his brother, Michael, numerous times prior to the show so we had the advantage of an existing relationship," says McWilliams. "We met with them early on, our first day at the show, and they were fantastic. They knew the product inside and out."
David Spiel says that's one of the advantages of being a smaller, family-run company: "If you want to talk to the boss, you've come to the right place!"
Each member of Spiel's show crew can demonstrate the vendor's machines. "I often sit down at the Coilmaster and run it; the same thing is true for the Punchmaster and Coilmaster Jr.," says Spiel. "I'll run it and invite the customer to do the same."
Hey, what's that?
After picking up some pointers on the Punchmaster, McWilliams and Braaten spied Spiel's Sterling Digibinder, a one-touch perfect binder for on-demand applications. "We saw this small perfect binder and we said, This can work, this will fit,'" recalls McWilliams. "At the price point of under $10,000, it fits us very well." The Digibinder can produce 360 books per hour up to two inches thick. The pneumatic clamp and nipper adjust for book thickness automatically. Rather than just notching, a roughing blade roughs the entire backbone of the book and notches it. Twin glue rollers ensure even glue application. The machine is especially good for use with coated stock.
A tabletop mechanical binder
The real excitement occurred when the Impressions Printing crew spotted Spiel's newest mechanical binding offering, the Sterling Coilmaster Jr. The tabletop unit made its U.S. debut at Print 05. It automatically inserts coil into the book from the first hole onward. It then cuts and crimps automatically. Users can bind books up to 22 mm in diameter at 600 books per hour without any tooling. The Coilmaster Jr. can handle books with margins of up to 3/16-inch with round or oval holes, at any pitch. "
We didn't know the Coilmaster Jr. existed," says McWilliams. "We knew about the regular [floor model] Coilmaster, but that's a little out of our price range, for what we wanted to do." The Coilmaster Jr. was so new that the machine at the show was the first production model. "The year before, at Print 05, we had a prototype," recalls Spiel. "You typically don't say to a new customer, 'Hey, we have this machine that came out yesterday. But Braaten and McWilliams saw it and they liked it."
The Coilmaster Jr., retailing at under $14,000, was a perfect fit for one of the printer's unusual jobs, a run of 5 x 3.1/2-inch books. "Spiel made a slight modification to the machine for us," says McWilliams. "They are willing to do whatever it takes to provide us with what we need."
Impressions Printing has been running the Coilmaster Jr. for a couple of months with no problems. "We always follow up, especially with a piece of equipment that's new to the market," says Spiel. "We'll ask about any special jobs or if the user knows about other applications they could be doing."