Solving America's bindery problems since 1963.
Our company specializes in perfect binding machines, collators, paper punching machines, double loop wire binding machines, as well as the only patented in-line plastic coil binder and former in the US.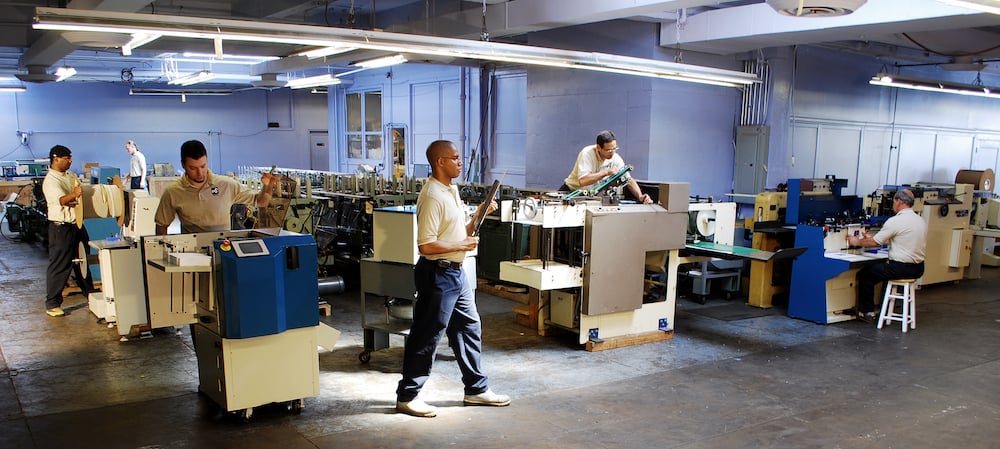 180 Atlantic Avenue
Garden City Park, NY 11040
1-877-BINDERY (877-246-3379)
718-392-7900
Products
Spiel Associates offers short run book binding machines to large run solutions. Our wide array of finishing equipment ranges from case binding equipment, stitchers, creasers, UV coaters, and laminators, down to the smallest table top paper punches and plastic spiral binding machines.
I Can't Say Enough!

I can't say enough good about the people at this company. They are excellent to work with. I like the equipment they sell too.
Who Are You Going to Call

We got the job on the condition that we could start binding the books in two weeks. We needed a high speed punch, a collator, and a double loop wire binder. Also, we didn't want all new equipment. After calling SPIEL ASSOCIATES, we were up and running in 10 days.
Why Spiel?
Spiel Associates was founded in 1963 by Norton Spiel. He has since passed the business on to his sons: Michael, Saul, and David. Our company began selling drill bits, then drilling machines which we imported from Europe. Our line expanded and they introduced machines from the following companies to America: Polar, Tec Graf, Ziegler and Herzinger, Iram, Lhermite, Herzog & Heymann, Rilecart, etc. Spiel Associates also sold reconditioned book bindery equipment as they do now.
Over thirty years ago our company began to manufacture its own equipment, starting with the Sterling® Punchmaster which has set a new standard for automatic punching equipment. Spiel Associates manufactures punching dies for the Punchmaster as well as all other heavy duty automatic punching machines. We invented the first functioning automatic plastic coil binder: The Sterling Coilmaster®. This was followed by the first in-line automatic plastic coil former and binder: The Sterling Coilmaster II plastic coil binding system. One of our most popular offering is the first automatic, table top plastic coil binder: The Coilmaster Jr. We hold various patents on the punching and the plastic coil binding process. Spiel Associates' newest machine is the Sterling Digipunch®, automatic "touch screen" punch.
Spiel Associates is the one of the largest independent book binding machinery distributors in North America. Our innovations have caused us to lead the field of mechanical binding. Our product knowledge in this area is unsurpassed by any company in the world. We have set the standard by which all punching and plastic coil binding equipment is to be judged. Our complement of sales department, service department, and machine shop make us a full service distributor you can count on.
Read More
Get a Quote